---
FLEXIBLE PRINTED CIRCUITS ...
precise, durable, versatile
Flexible printed circuits are custom designed to meet the specific requirements of each application, an each circuit is supplied ready for component assembly. This provides clearer, more efficient circuits, simplifies overall design problems and eliminates costly wiring errors.
The circuits consist of etched or electroformed conductors bonded between layers of flexible insulation for ease of continuous motion, thus permitting the circuits to be compatible with hinged or moving parts. They can be coiled, twisted, bent around corners, accordion folded or pre-formed to the contours of any component design.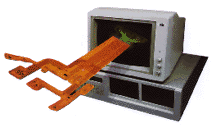 Our computer design facilities provide prompt, effective solutions.
Conductor widths and spacings can be produced as small as .003"; overall thickness as thin as .0025"; dimensional tolerances as low as + .010" holes may be as small as .013" and land areas as small as .010" annular ring. They are fire retardant, self-extinguishing, non-toxic and low smoke emitting, and retain their electrical properties and integrity from 350 degrees to 550 degrees F. They are also resistant to moisture, chemicals, vibration, abrasion, ultraviolet and nuclear radiation, ozone, atmospheric exposure and thermal shock per current military standards.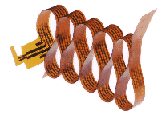 FLEXIBLE CIRCUITS withstand repeated flexing, folding and twisting.
Today, with complete computer design capabilities, and backed by our years of experience, we can move promptly from your concepts or blueprints directly into prototypes, then on to full production in surprisingly short turn-around times.


Thermolab • Silicone Rubber Heaters • Heaters Bonded to Mating Metal Parts • Flat, Flexible Units • 3-Dimensional Units
Kapton® Insulated Flexible Heaters • Kapton® Flexible Printing Circuits
IPC J-STD-001 Certified